Aquí hay un diagrama de circuito simple de una bocina simple musical usando dos NE555 VA ICs.Two se conectan de la ouput mutivibrators.The astable del multivibrador primera se da a la descarga (pin 7) del efecto multivibrator.The segundo astable combinado de la astable multivibradores producir un tono musical a la salida.
Circuit diagram with Parts list. Diagrama del circuito con la lista de piezas.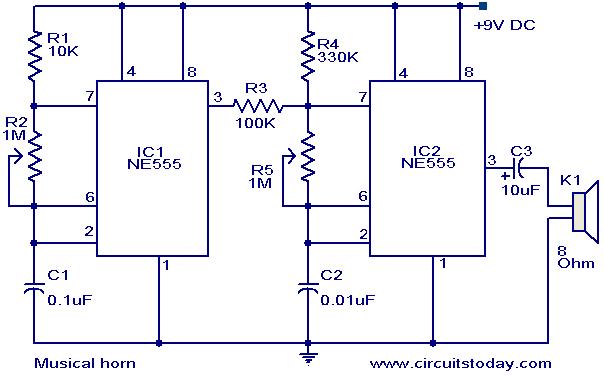 Notes.
Notas.
The sound effect can be adjusted by varying the POTs R2&R5.

El efecto de sonido se puede regular variando la R2 y R5 POT.

The speaker can be a 8 Ohm tweeter.

El orador puede ser un tweeter de 8 ohmios.

The circuit can be powered from a 9V PP3 battery.

El circuito puede funcionar con una batería de 9V PP3.

The ICs must be mounted on holders.

El VA debe ser montado en los titulares.

All capacitors must be rated 15V.

Todos los condensadores deben estar clasificados 15V.